Tax Forms
2010 Laser 1099-R Set, 6-part - 50 qty.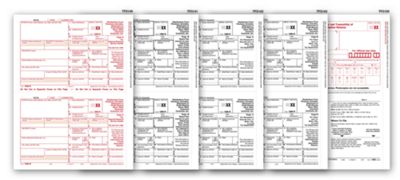 More 2010 Laser 1099-R Set, 6-part - 50 qty. Info
W-2 Forms & Envelopes
So convenient! Kits come with enough forms for up to 50 employees! Each set includes: 50 Federal Copy A, 50 Recipient Copy B, 50 Recipient Copy C, 100 Recipient Copy D and 1 1096 Laser Transmittal. State requirements: Meets 6-part state filing requirements. Paper Filing Due Date: To IRS, February 28 // To Recipient Janua
Price range $
Next Deluxe Business Checks and Forms Item - 2010 Laser W-2 ,4-up Horizontal Format - Popular format is ideal for reporting wages paid. Quantity: Forms come in packages of 100. Employees per page: One employee per page. Handy format. 4-up horizontal format.
Previous Deluxe Business Checks and Forms Item - 2010 Laser 1099-R Set, 6-part - 25 qty. Deluxe Business Checks and Forms List